Ceramic paint protection includes a full machine polish and Detail before the application of the coatings
Ceramic paint protection offers the following benefits.
Extremely glossy
Protection against bird poo etching and tree sap
Resistance to bugs flies and UV rays
Resistance against washing scratches and light swirls
Makes your vehicle far easier to clean
Your vehicle stays cleaner for longer
Available for paintwork Alloys, Glass, and Interiors
Coatings for every surface
Coatings with up to 5 years Guarantee
GTECHNIQ terrific world class coatings
When it comes to adding gloss, resisting swirls, contaminant and dirt repellency, Gtechniq Crystal Serum Ultra and Serum Light are the pinnacle in paint protection.
Serum Light forms an ultra- durable, high-gloss, slick to the touch, chemically bonding inorganic layer of 9h optically clear ceramic. Once applied, gloss levels will remain in the upper 90th percentile for significantly longer when compared to traditional paint protection products, and cleaning your car will be a breeze.
CQuartz TiO2 (aka CQuartz Classic) is the latest adaptation of the original Quartz-based coating that put the advances of Nanotechnology in the hands of detailing enthusiasts, CarPro CQuartz remains at the cutting edge of automotive protection technology with constant advances and improvements throughout the years. CQuartz bonds to paint, glass, metal, and plastic at a molecular level, effectively becoming a functional element of the vehicle's surface. This coating's hard hydrophobic, glass-like finish helps to protect your vehicle from weathering, UV-damage, industrial and organic fallout, acids, alkalines, light wash-marring and abrasion for up to 2-years whilst making it easier to clean than ever before. If you find maintaining your vehicle's beauty a challenge, it's time to experience the CQuartz legend for yourself...
The most common question we get asked is "What's the difference between CQuartz UK edition and CQuartz Classic with ti02?"
It's simple, with CQUK we have a higher concentration of si02 quartz which gives our hardest most chemical resistant layer of protection. With CQuartz Classic we replaced some of that si02 with ti02 which gives a slicker, more glossy finish but reduces the hardness of the final coat.
So the main choice is what is most important, all our protection of CQUK or a combination of protection and extreme gloss of CQ Classic.
Why not have the best of both worlds and use CQUK topped with CQ Classic, a super hard base with the glossy slick classic on top!
We are Maxprotect accredited..fully trained to apply the brilliant UNCR PRO ELITE
UNC-R is the world's first Nano Coating that turns into a Rubber Membrane when cured in room temperature. This flexible nature enables the finish to be ultra-resistant to wash swirl mark build-up* and does not suffer from water staining like some ceramic coatings do.
It is also perfectly suited for application on Paint Protection Film and Vinyl finishes. We recomend using UNC-R for gloss (shiny) finish films and paint and UNC-R 1.5 or satin/ matte finishes.
Incredibly glossy, super smooth and easy to clean surface is what UNC-R is all about! Same as our Ceramic Coating Range, UNC-R is a permanent coating and can only be removed with with heavy abrasives once fully cured. UNC-R has extremely high chemical resistance (Salt, Acid, Brake Dust, Exhaust Gasses, Tree-Sap, etc.), high UV filtering properties and small scratch, micro chip and buffer line filling capabilities.
Recommended to apply at temperatures below +20c (68f), with perfect application temperatures ranging from +5c (41f) to +15c (59f). If application temperature can not be reduced below +20c (68f), a two-man application is recommended, or you can try an alternative coating - UNC-R 1.5 for instance,
This is a Professional product and is not recommended for beginners. However, a seasoned DIY Enthusiast could handle it after learning the application instructions.
Use on your own risk!
Available only from Max Protect and official distributors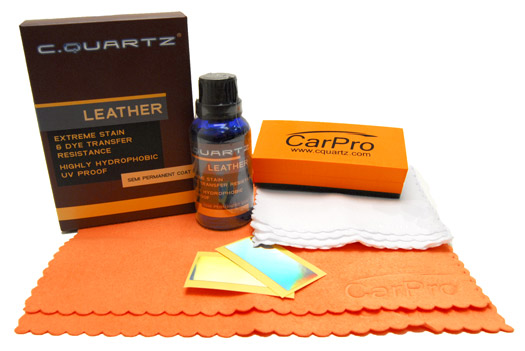 Carpro leather and vinyl even protects against superglue and ink spills
CQuartz Leather & Vinyl is the ultimate in protection for both leather and vinyl surfaces throughout your vehicle! Our new high tech formula was created using only the highest quality ingredients available and offers a beautiful "better than new" finish with no added gloss! It was designed to provide an excellent combination of soft to the touch tactile feel, extreme protection, and unbelievable durability. CQuartz Leather & Vinyl was specifically developed to resist stains, dirt, jean dye transfer, and UV rays for years to come. Maintenance of your interior surfaces becomes as simple as wiping with a damp towel and walking away!
CQuartz Leather & Vinyl has been tested against a variety of chemicals and conditions including mud, grease, dye transfer, crayons, and even super glue! CQuartz Leather & Vinyl does NOT fade or yellow in extreme UV and protects the existing materials with UV inhibitors integrated into the formula to provide the ultimate in UV protection as well. Protect your interior to the same degree you protect your paint with CQuartz Leather & Vinyl coating!
Features and Specifications:
Durability: 1 to 2 years
Resists dye transfer
Hydrophobic & Oil Phobic
Stain resistant
Chemical resistant
UV resistant
"Easy clean" effect
Preserves color and resists fading
/